Heya Guys,
Just thought i'd throw together a post of some storage drawers I made for my NK SWB. If anyone is every interested in making a similiar set, i'd be happy to talk more.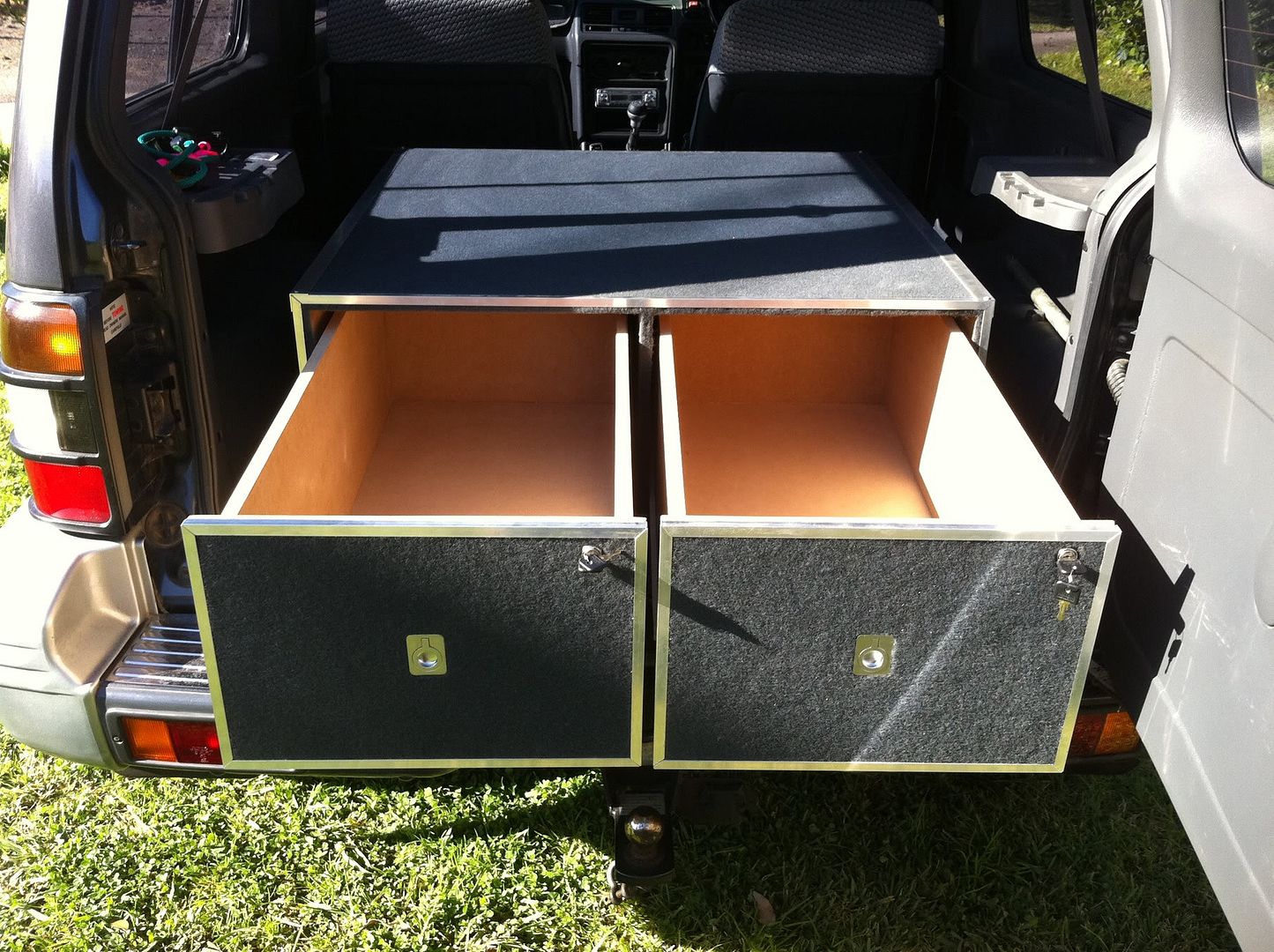 List of materials from the local bunnings store :
And the oops I forgot something list, back again (minus the flashlight) other than another packet of screws and 5 more meter angles this is pretty much all i spent.
This will be easier if I just list the steps I took rather than writing a story. I'll throw in some picky's too (Good Ol iPhone) so you have some idea on what i'm refering too.
So we shall jump a few steps no photos required for the first few steps.
1. Remove rear seats and armrests.
2. Remove any bolts and attachments from the boot. (We will use some of these later on our drawers).
3. Remove the rear plastic carpet guard and some of the screws around the plastic internal wheel arches
4. Remove the carpet.
5. Ok now it's time to size up where we will be putting our drawer frame and how it will be attached. I used the rear seat centre hole bracket.
I also used the rear left and right side where the little square loops were :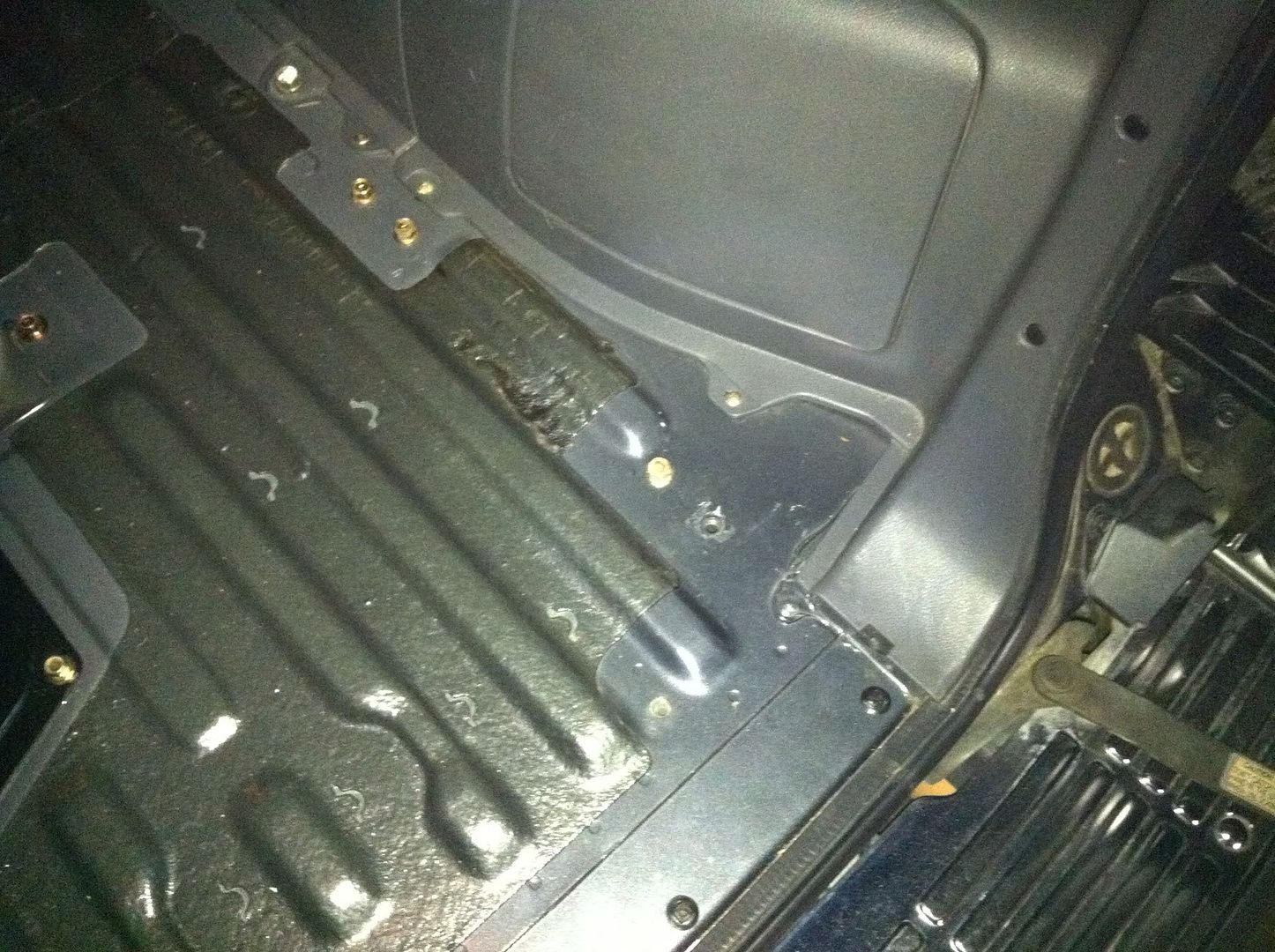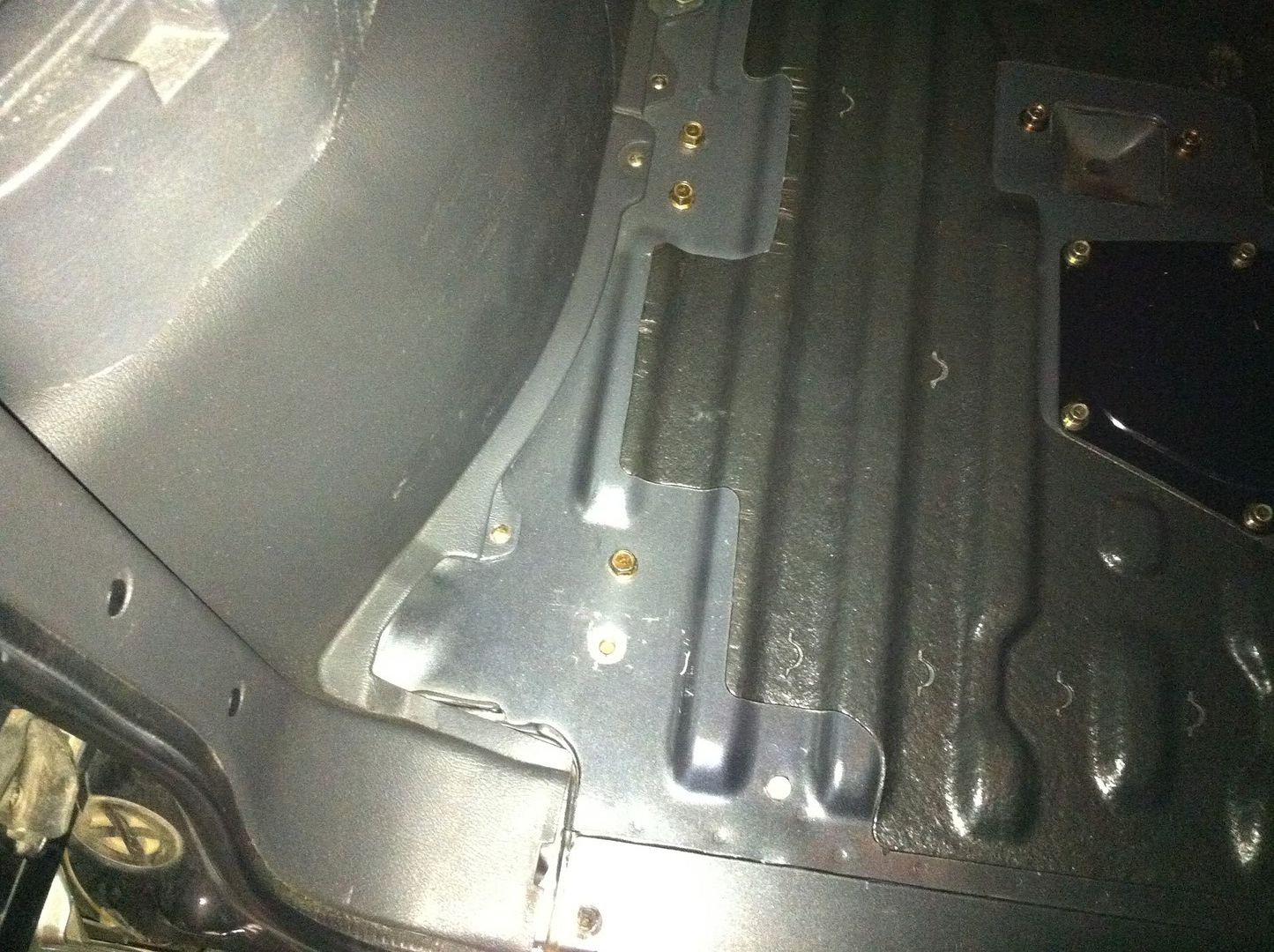 6. Ok once I had figured which holes I was using it was time to measure up the timber and looking at mocking something up. I wanted just enough height to fit a 1.25L bottle since thats probably the highest item I wanted in there, (the mrs and her shopping) so I used around 350mm as a guide, you may want to make your box whichever size (height width length) so i wont be using measurements per sa.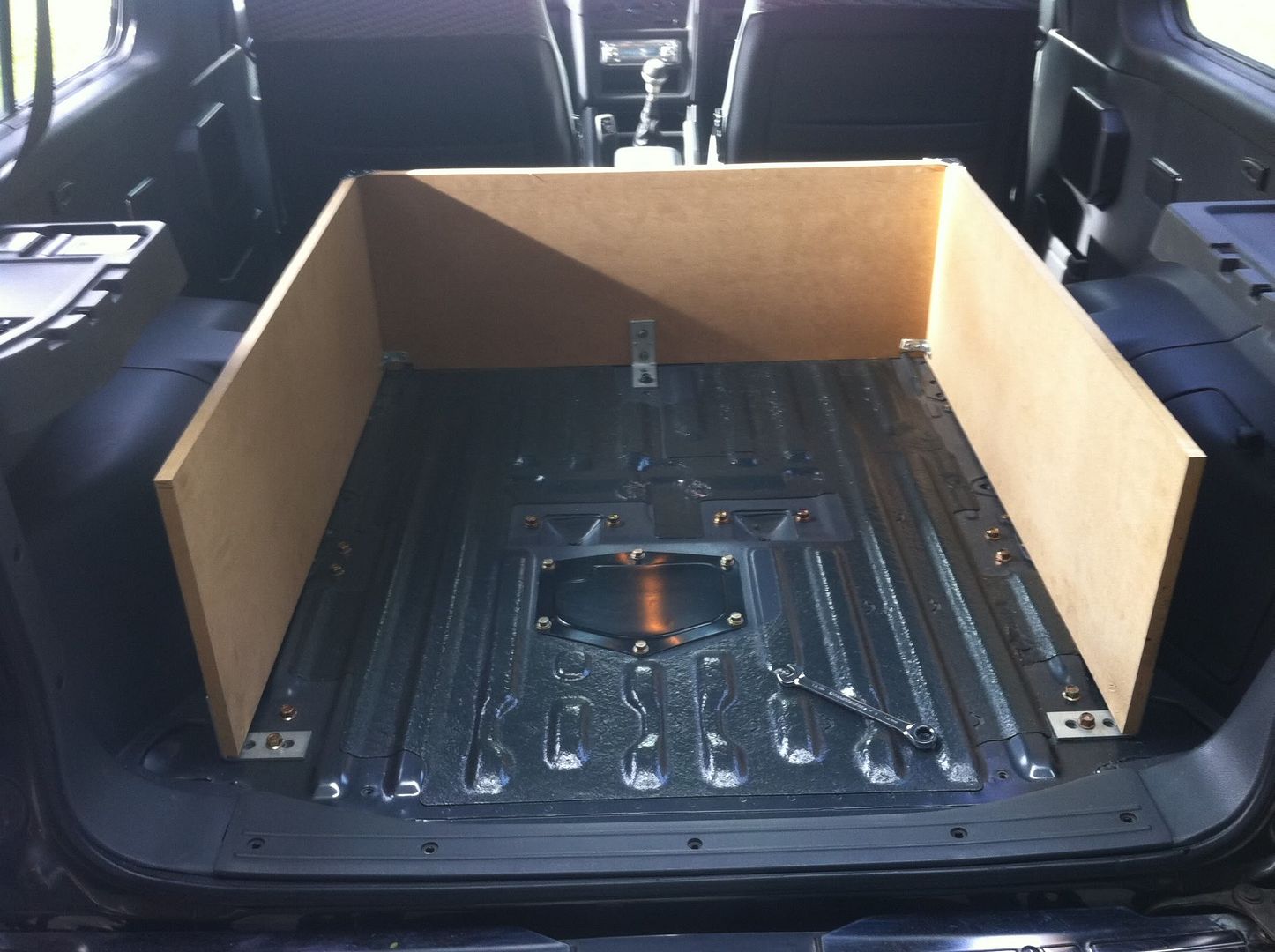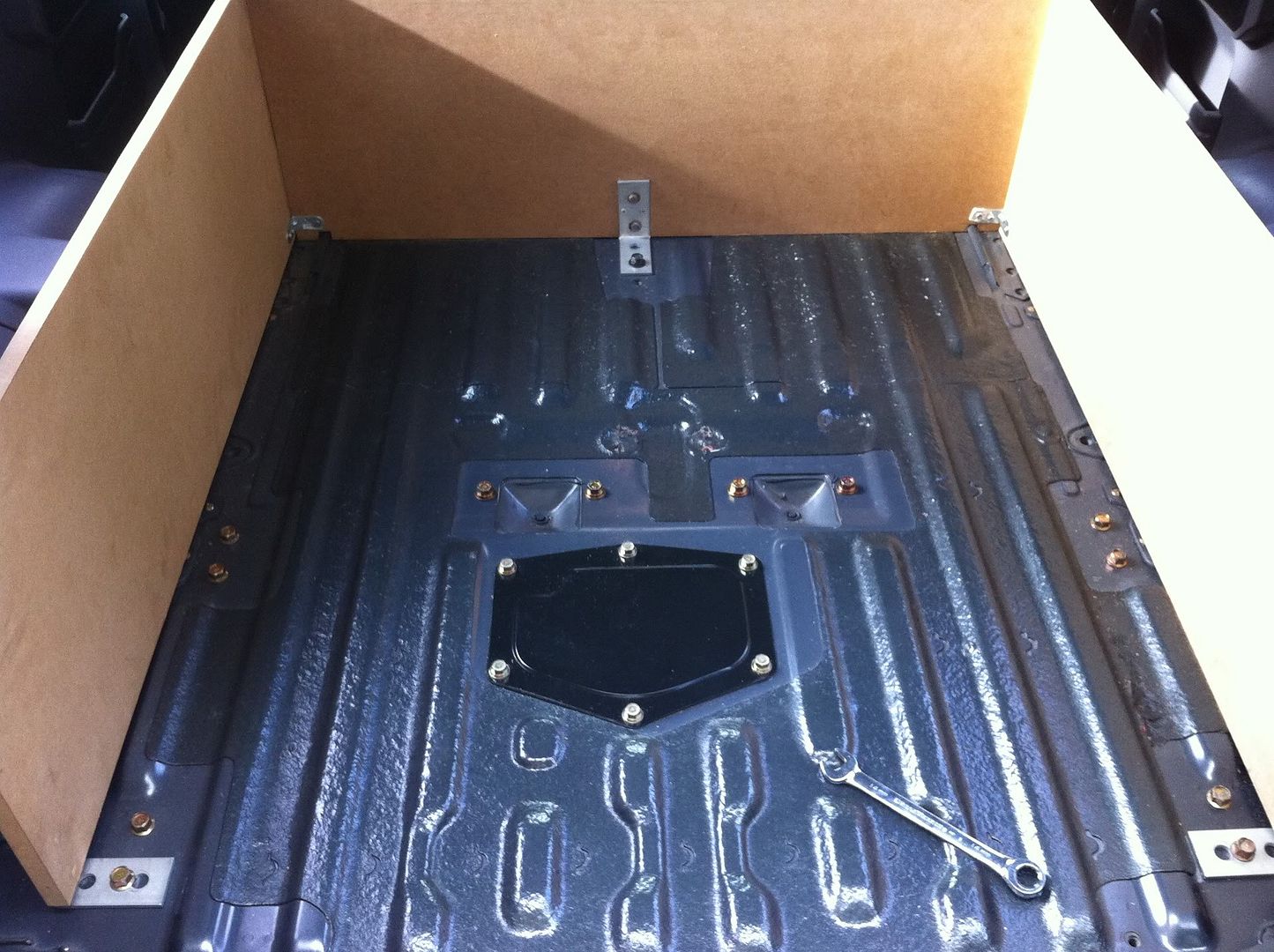 7. So once I had the boards secured by a few brackets (I'll leave it up to you where you put them) I was able to get an idea of what size i was working with, I was able to remove the 3 sides in one peice. Now was the time to match the lid on to make it solid.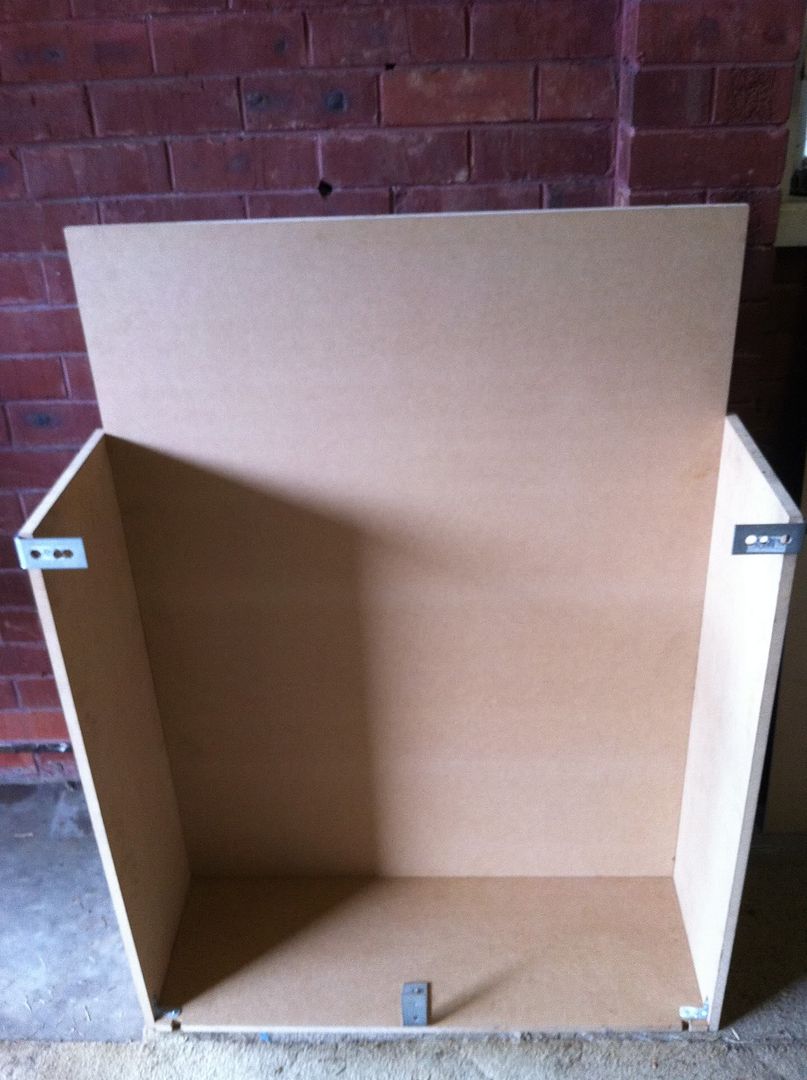 8. The lid was measured up and screwed into place, giving me a much more solid unit.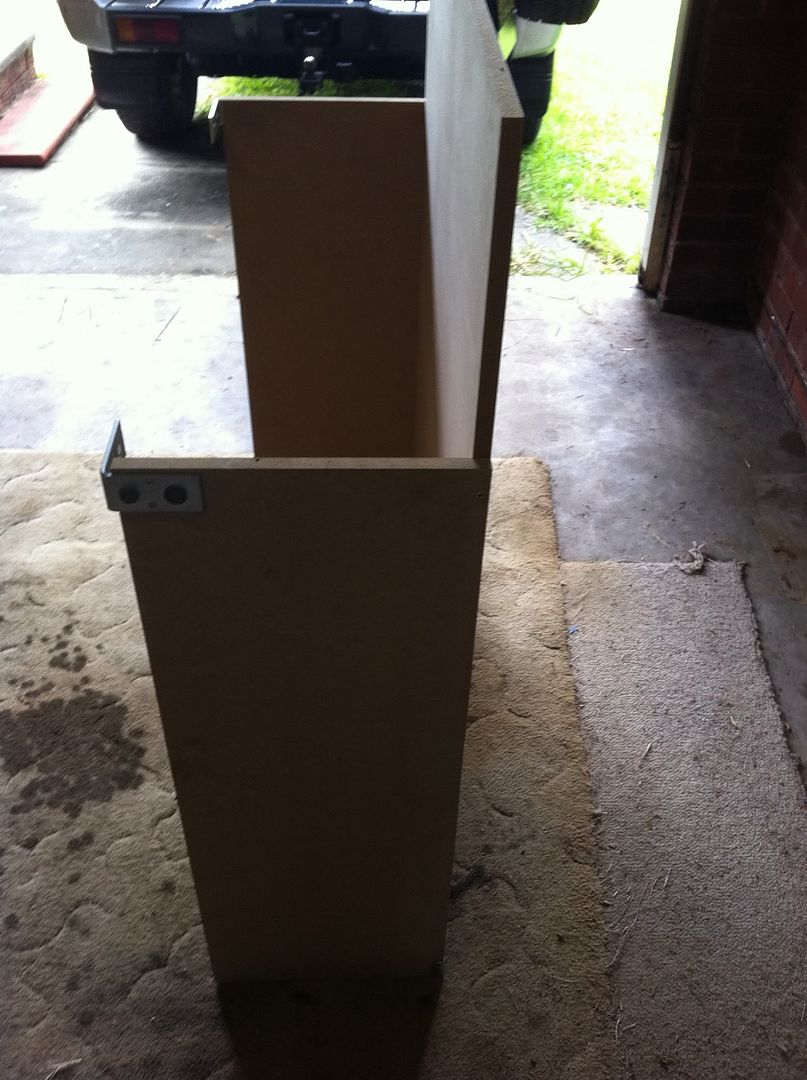 9. Next step is to cut the extra length off and square it all up. Now its starting to take shape.
10. Lets put the box back into the car screw it all down and make sure its square.. (very important since your drawers wont slide correctly if everything isn't plum).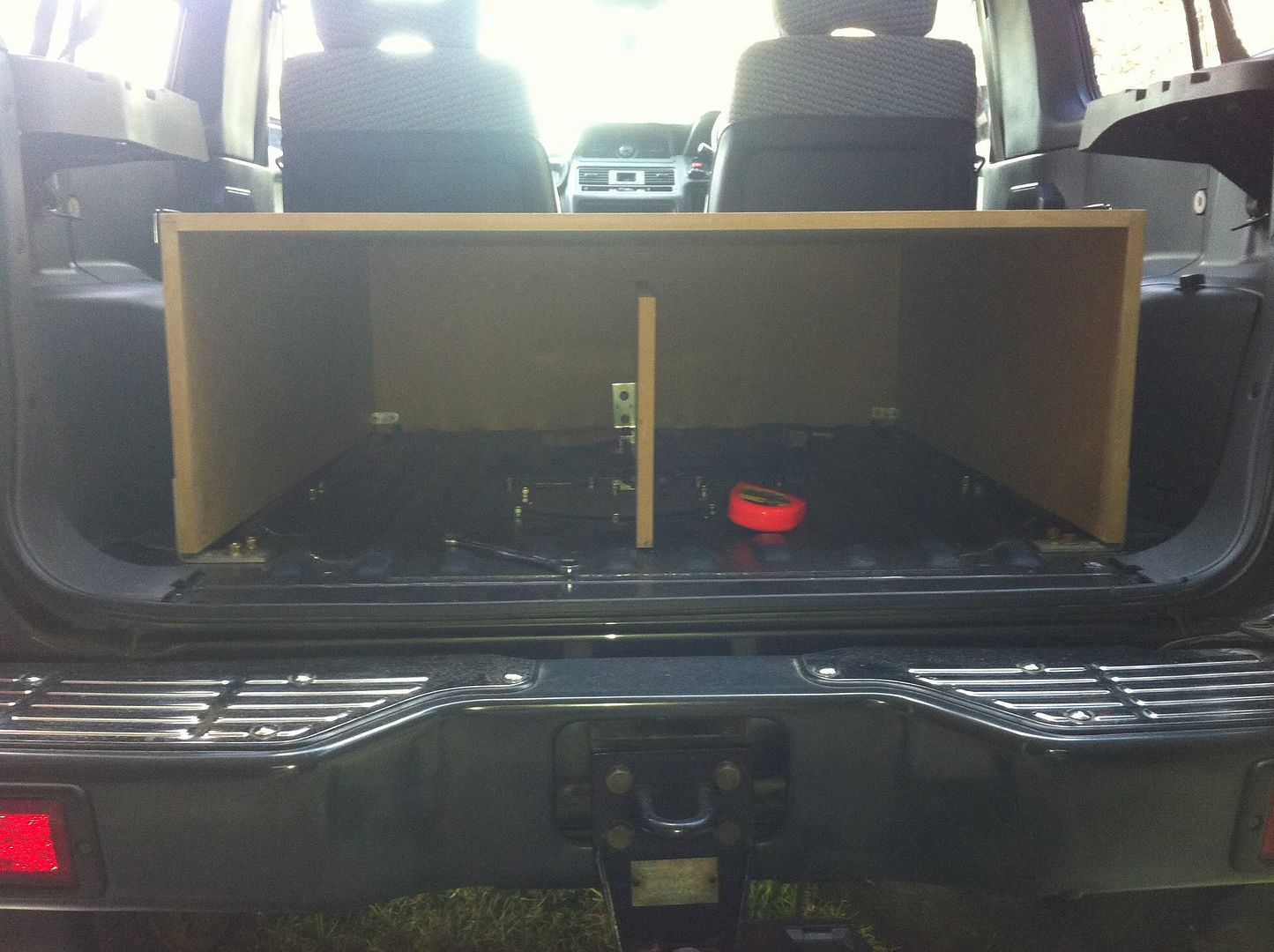 11. Ok so everything seems spot on, its now time to get the middle support in place.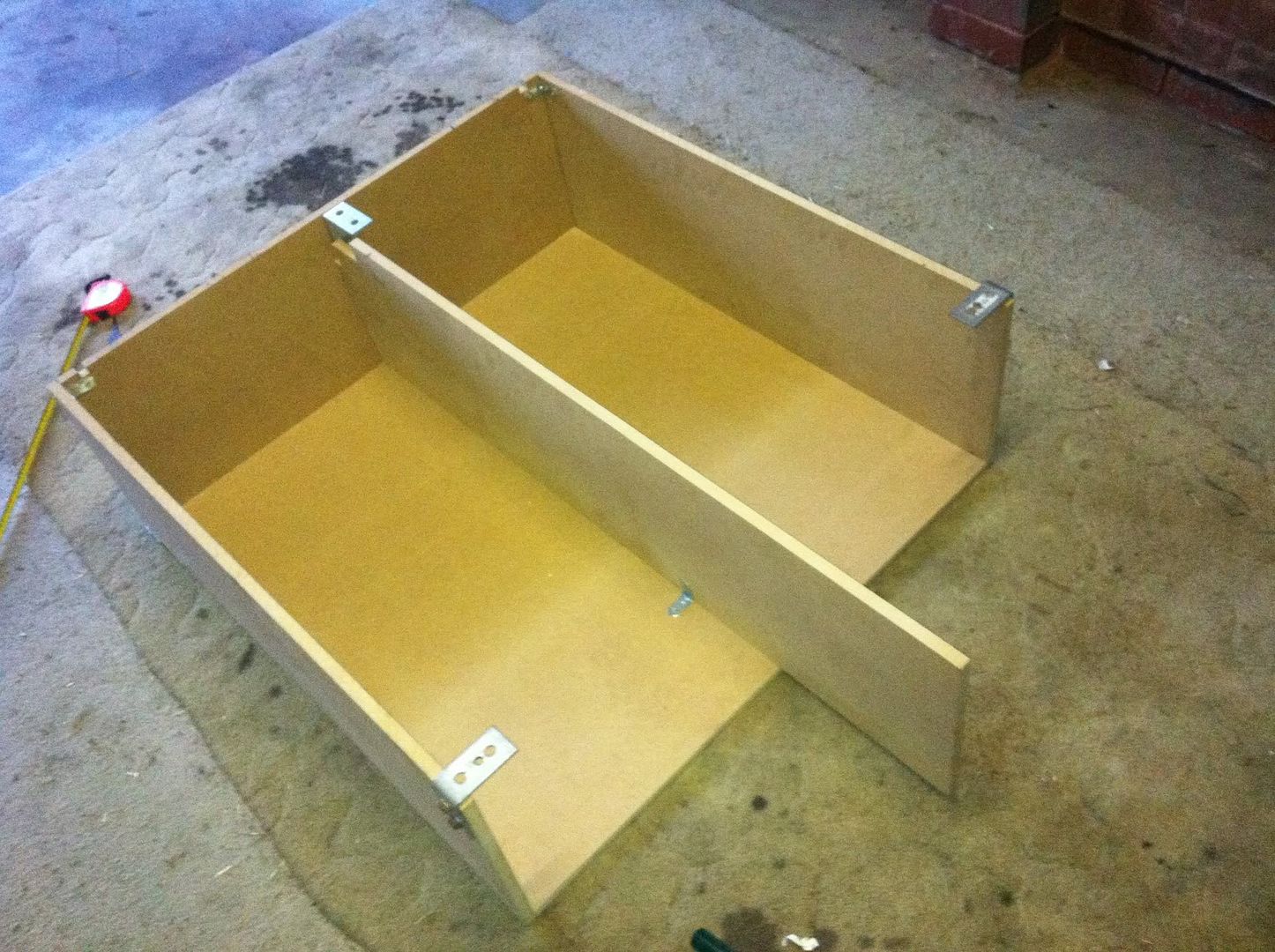 12. The trick here was the centre had the mounting bracket so I cut a groove around it (this wont effect the drawers in any way) as you can see here :
13: I then screwed it in with some smaller brackets once I had found the absolute equal distance for the two drawers minus the centre width distance of the middle support.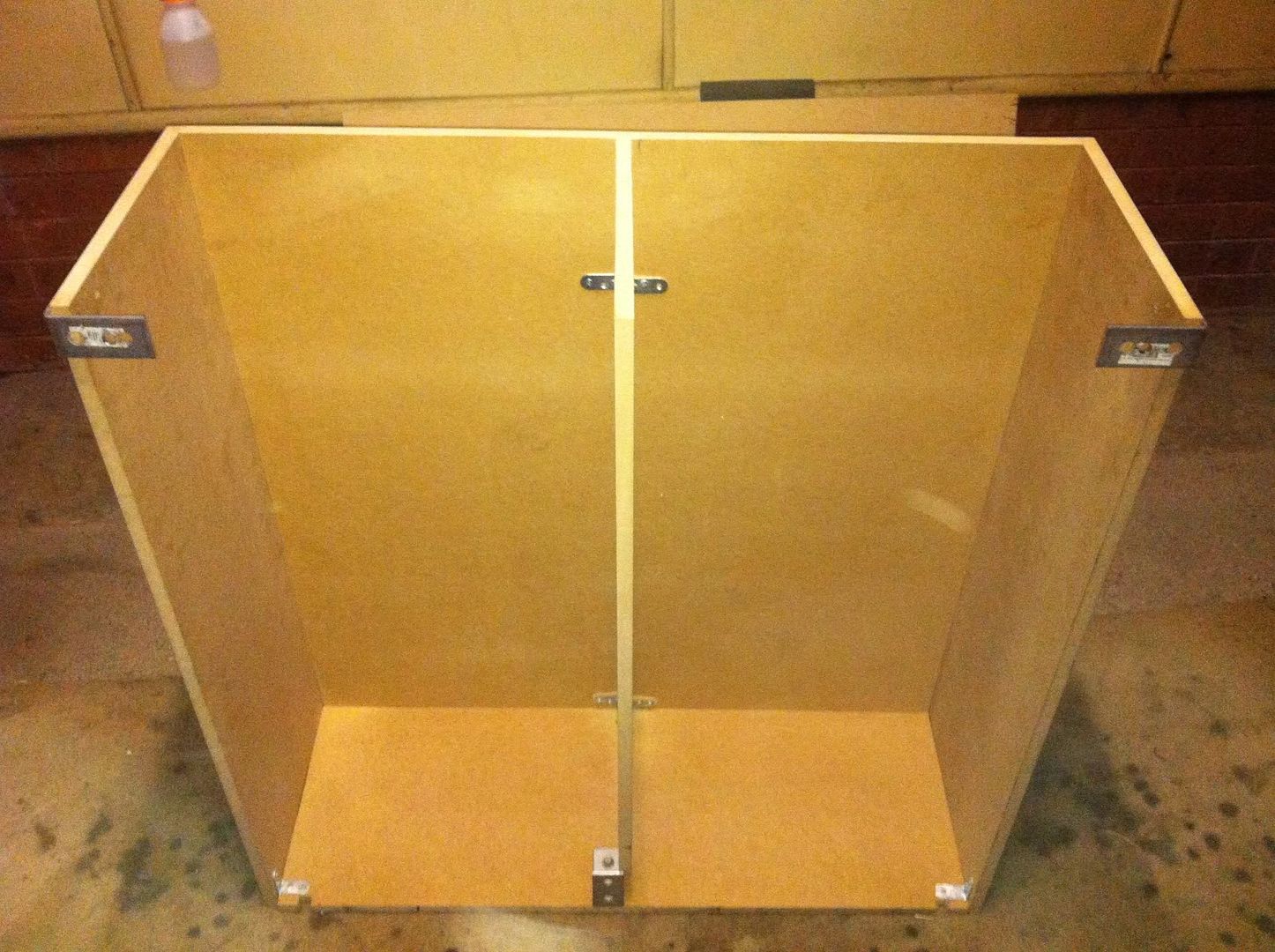 14: Now that everything is screwed in its time to take it back to the car for another test fit:
15: So far soo good, Now comes the tricky part. Making the drawers, firstly you cut the front part of the drawer since you want this part to be as sealed as much as possible and match it up with the entrance side of the drawer gap.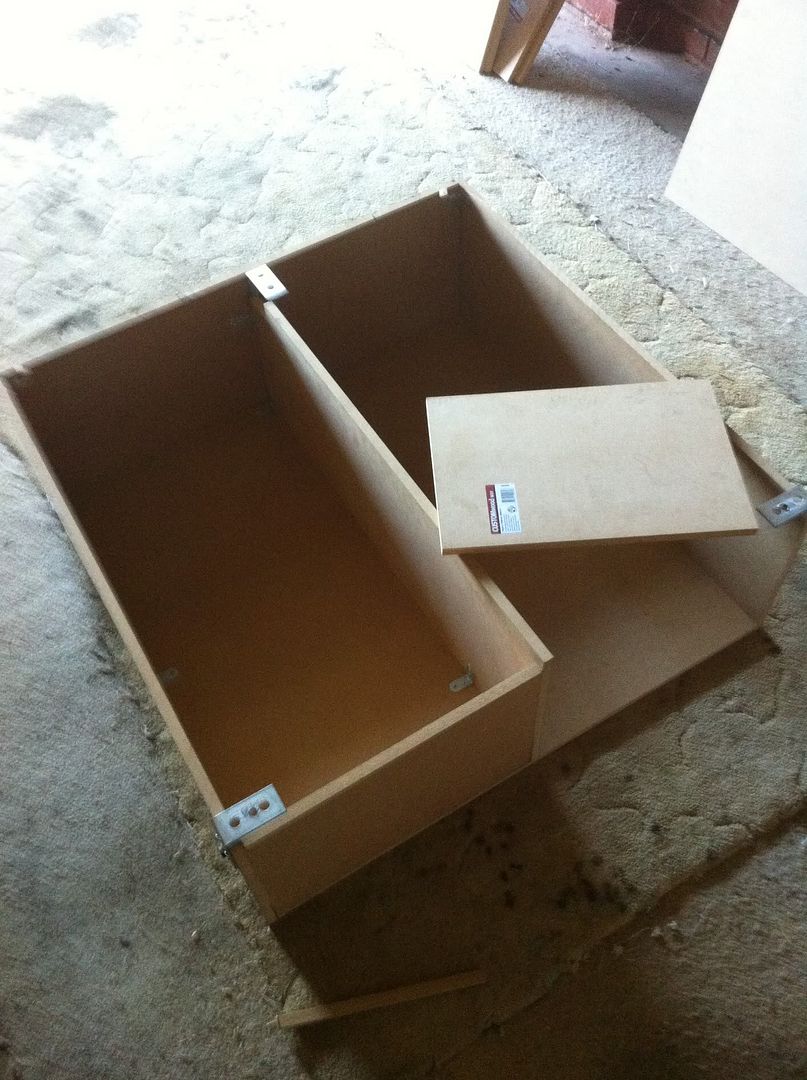 16: Once you have the front done its time to do the sides. Just measure the distance to the end of the box minus 5 mm or so for a bit of play, now cut them the same height as the drawer front and you should end up with something that looks a little like this: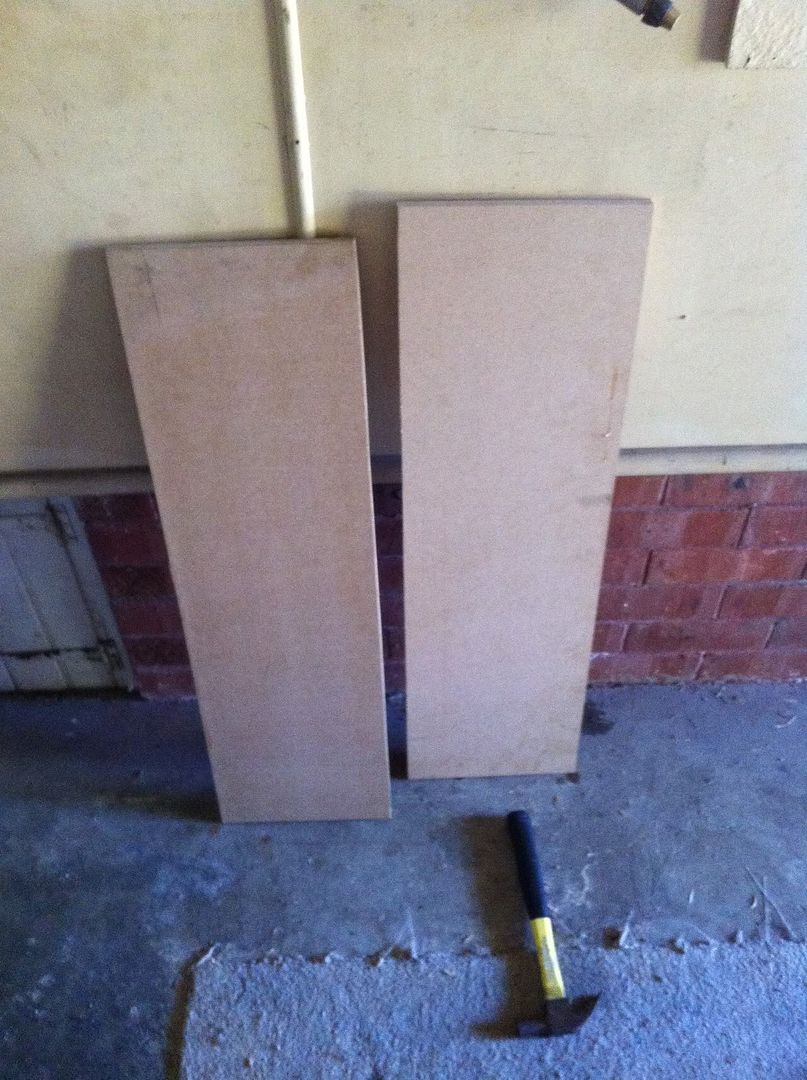 17: Lets secure the sides now with brackets, now keep in mind the drawer rails require around 12.5mm of gap per side to work correctly, all I did was measure 12.5 mm in from the sides of the front drawer panel and attached them:
18:Now we will put the bottoms on the drawers. This is as simple as putting the drawer on the timber and tracing around it.
19. Secure the bottom timber (the thinner stuff) to the three sides and add your rear peice.
You should now have something that resembles a drawer. Be sure to do a test fit to make sure once again everything marry's up.
20. Bingo we are now laughing like a shark. Lets now fit the Drawer runners when the drawer is fully closed so we can get an idea of how far and where the runners need to be in order for the drawers to be fully opened and closed. (This can take a little bit of fiddling but be sure to get it correct otherwise your drawers will be all out of allignment and rub on each other.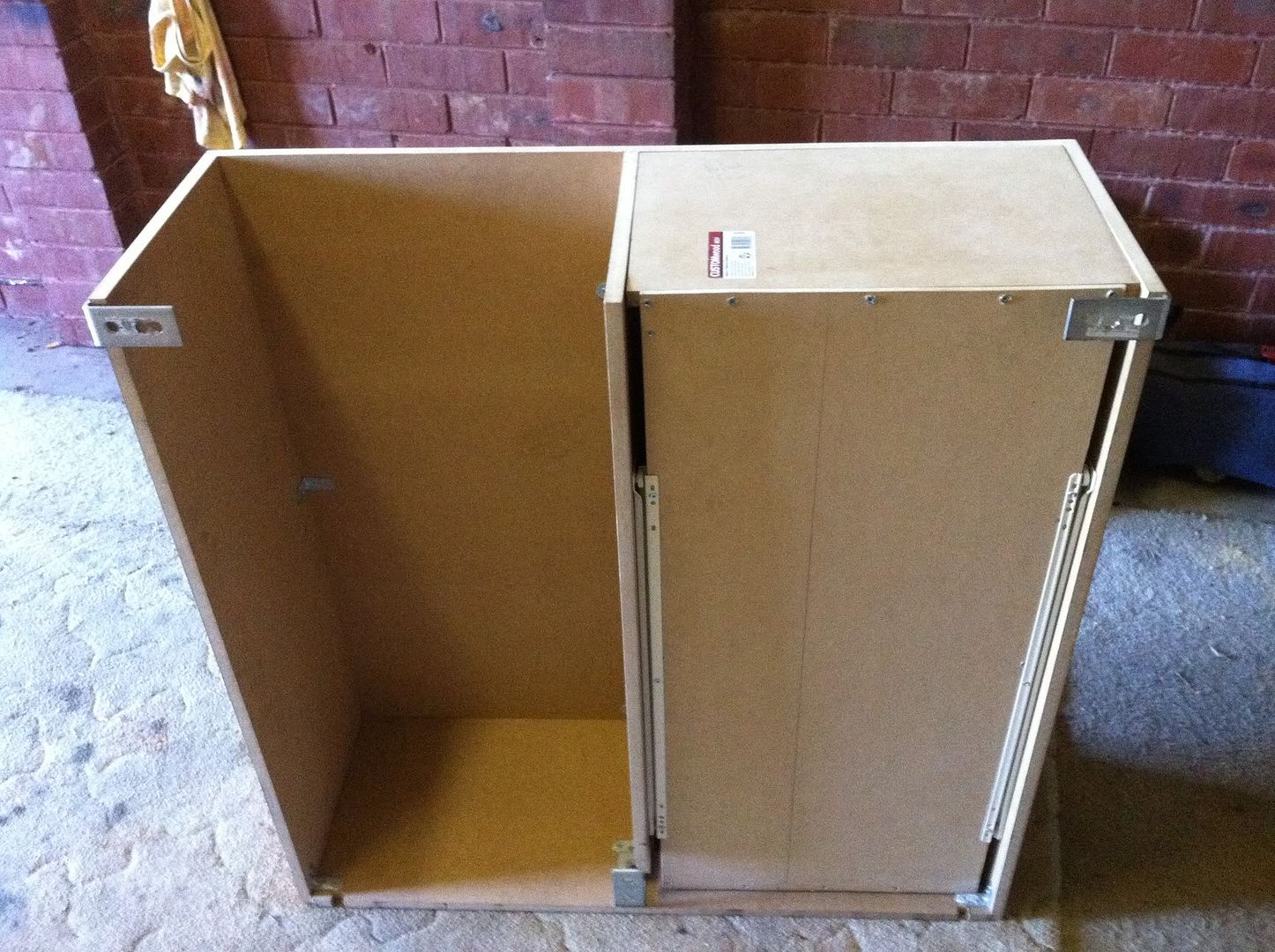 21. Now that you have one drawer ready to go it's time to do the same with the second one, an hour or so later and presto 2nd drawer ready to go:
22. Time to test the runners and depth of our drawers just to be sure we have not screwed something in the wrong hole.. Everything seems great.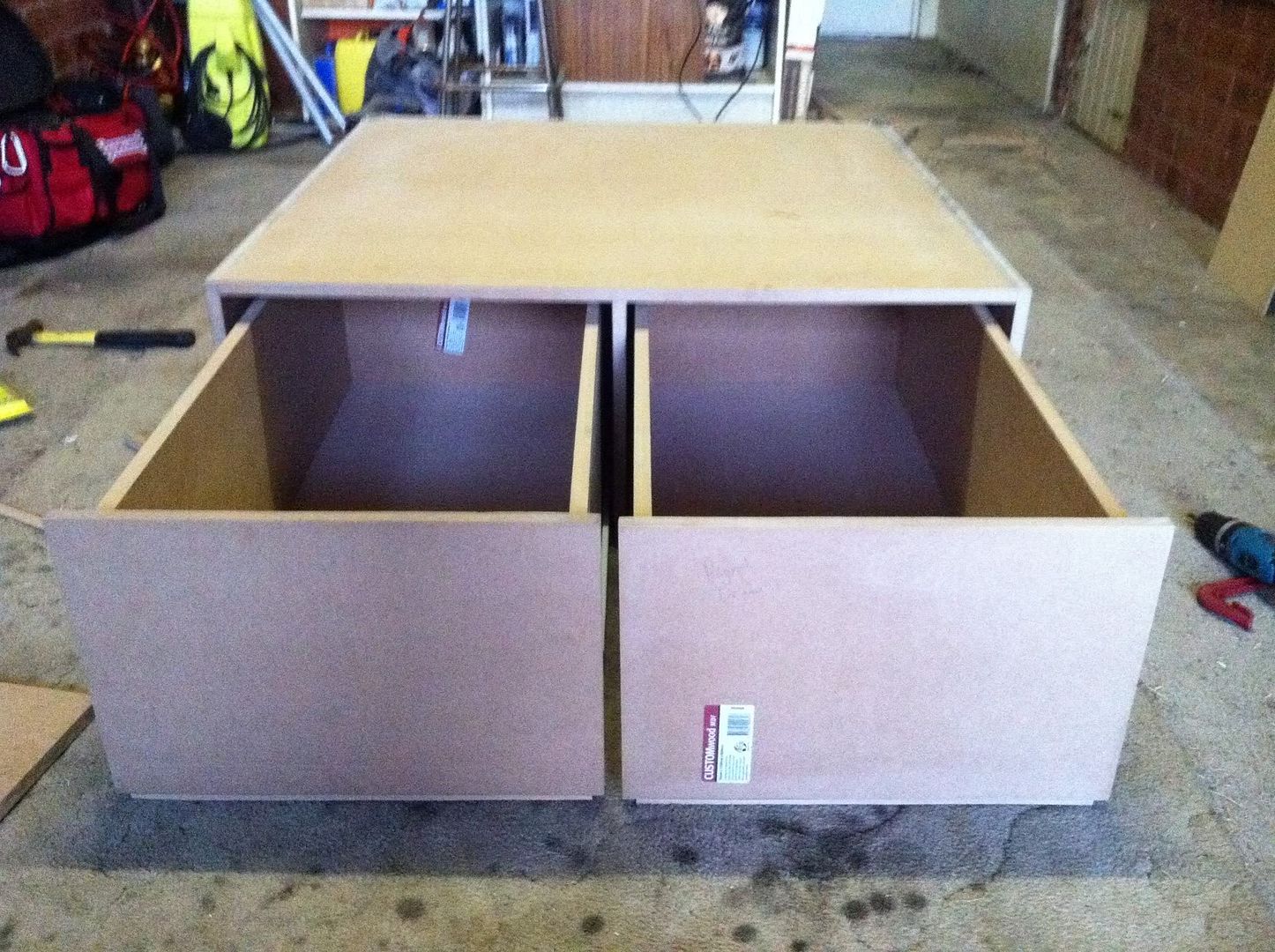 23. Ok now that its all together lets go for, Yes ANOTHER test fit! (you can never have too many) and the results are in ..... We have a winner !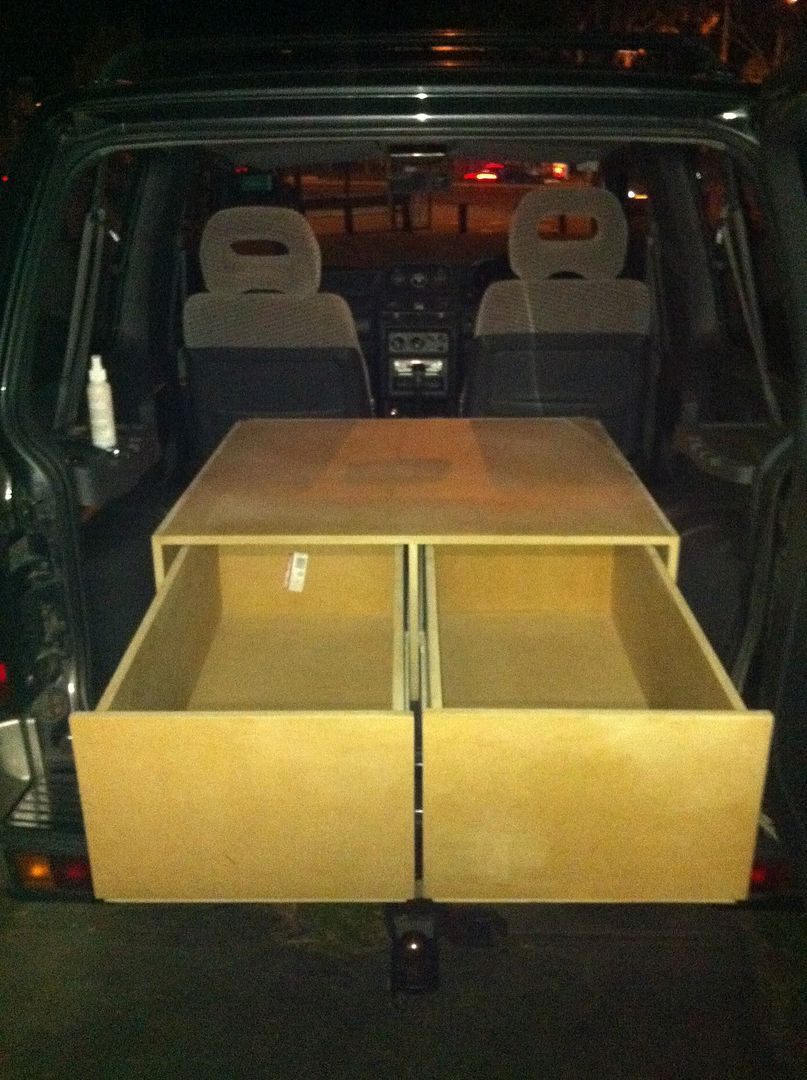 24. Ok lets be super sure, put the carpet back in and do one more fitting.
25. Now time for the cosmetic stuff.
Carpet, Glue and locks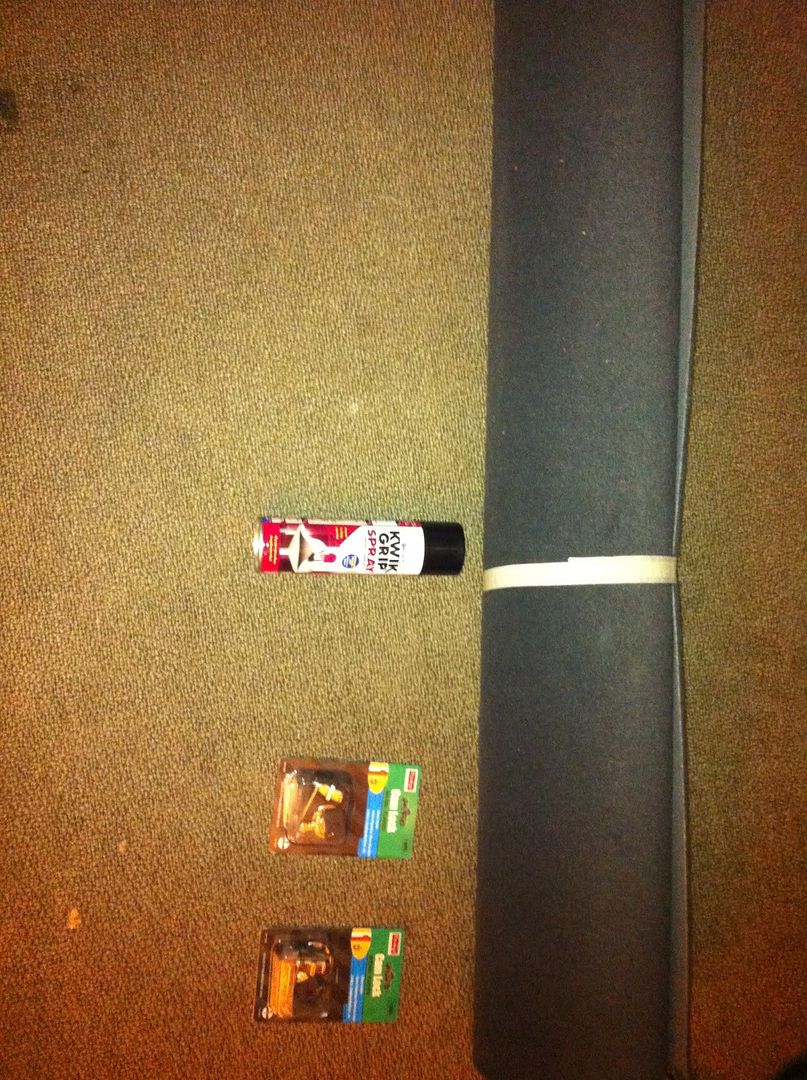 and some alloy right angle lengths:
26. The handles where tricky the timber needed to be drilled halfway because they mounted flush: I also drilled holes into the top right of each drawer to mount the locks, (without them the drawers slide in and out when driving) I also cut a small groove in the top of the drawers for the latch to lock into.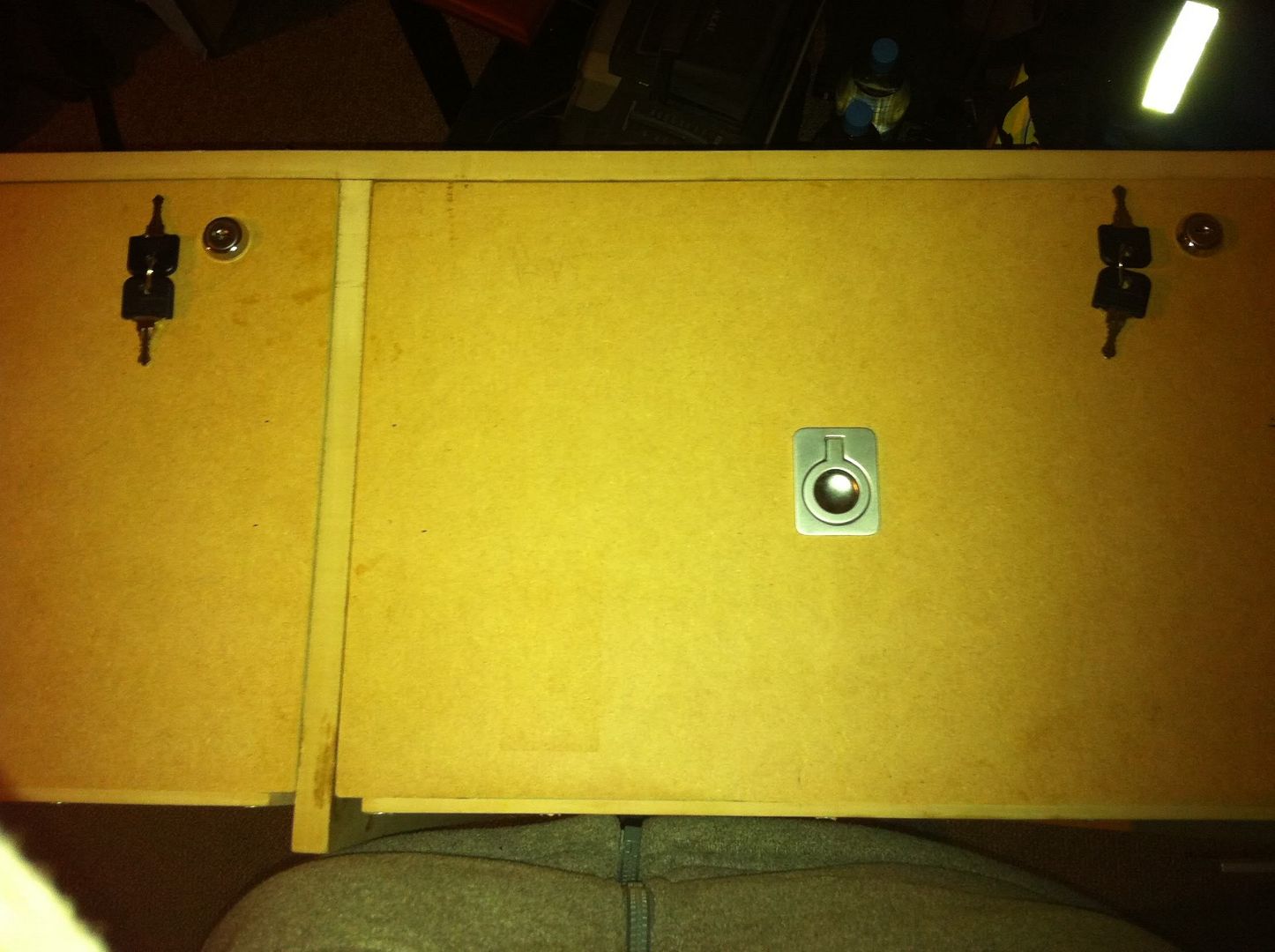 27. Attaching the carpet : I left 5mm of carpet overhang around the whole box so I wasnt going to screw up and leave myself short on a side, I was just going to trim the overhang off with a blade. This was attached with Kwik Grip spray (dont reccommend) and later with Bondcrete (awesome stuff).
28. I chose to only do the drawer fronts with carpet and leave the rest timber, its up to you what you do with the drawers :P
29. Once everything was carpetted, it was then a matter of cutting the alloy angles to the right size of the box and the front of the drawers. How you join the sides is up to you, i just cut 45 degree angles and joined them , it worked well.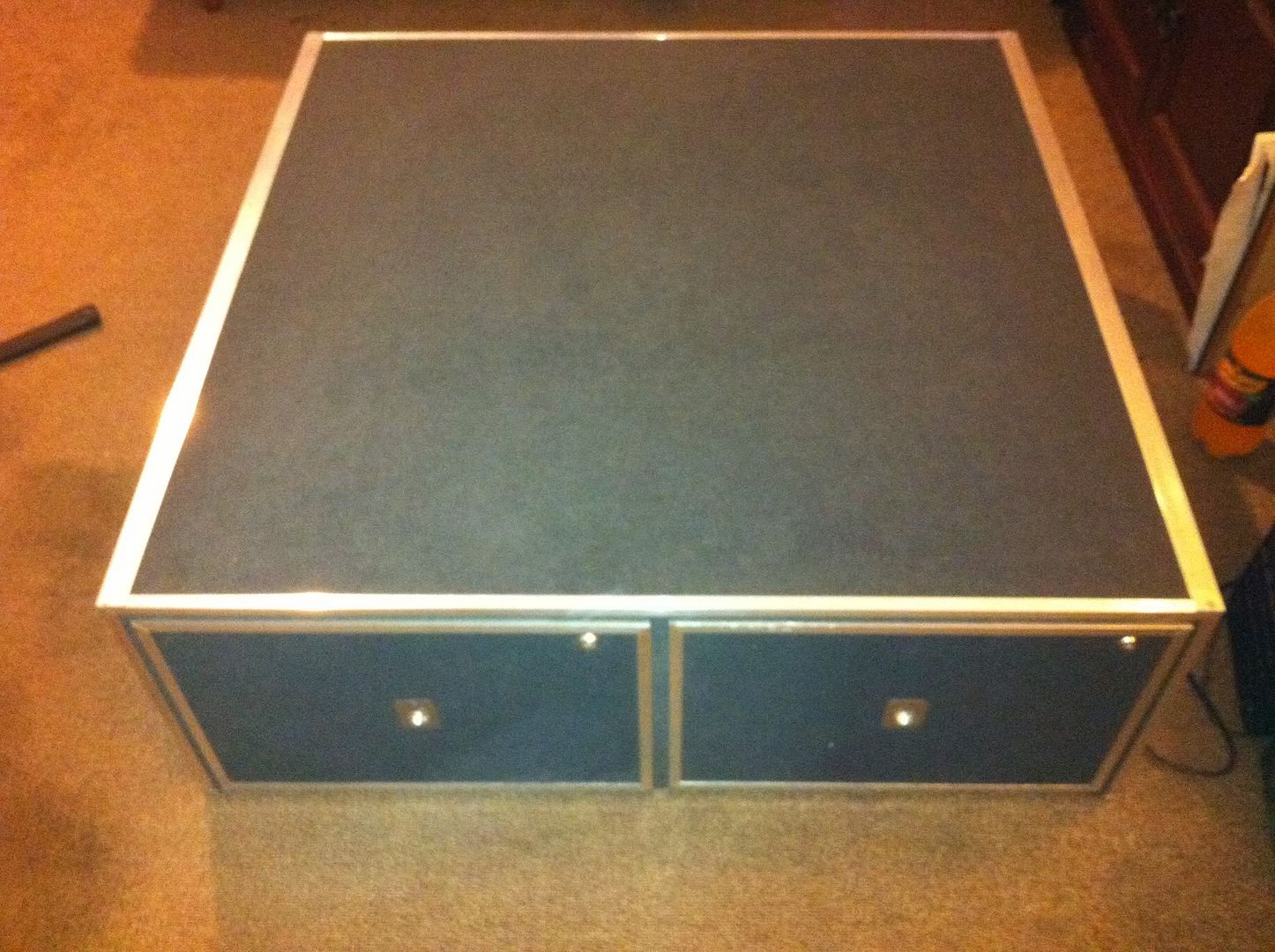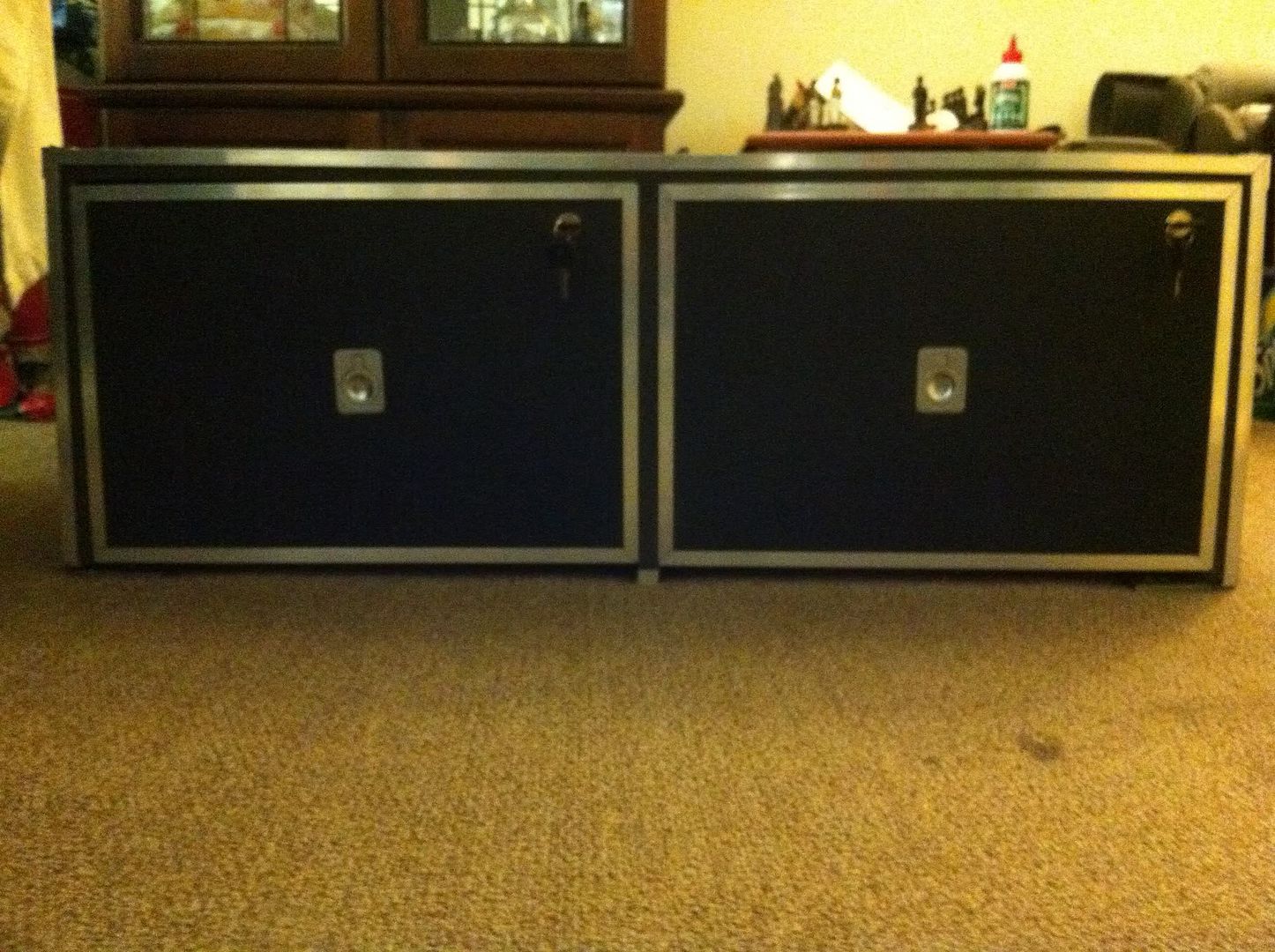 30. Remember the loop holes we took out of the back when removing the carpet, well its time to put them into practice. I stripped the paint and polished mine up, since they were looking pretty rusty and yuck. they turned out great. I mounted them on the side of the box so I could use straps to tie stuff down on to the top of the box. (2 on each side)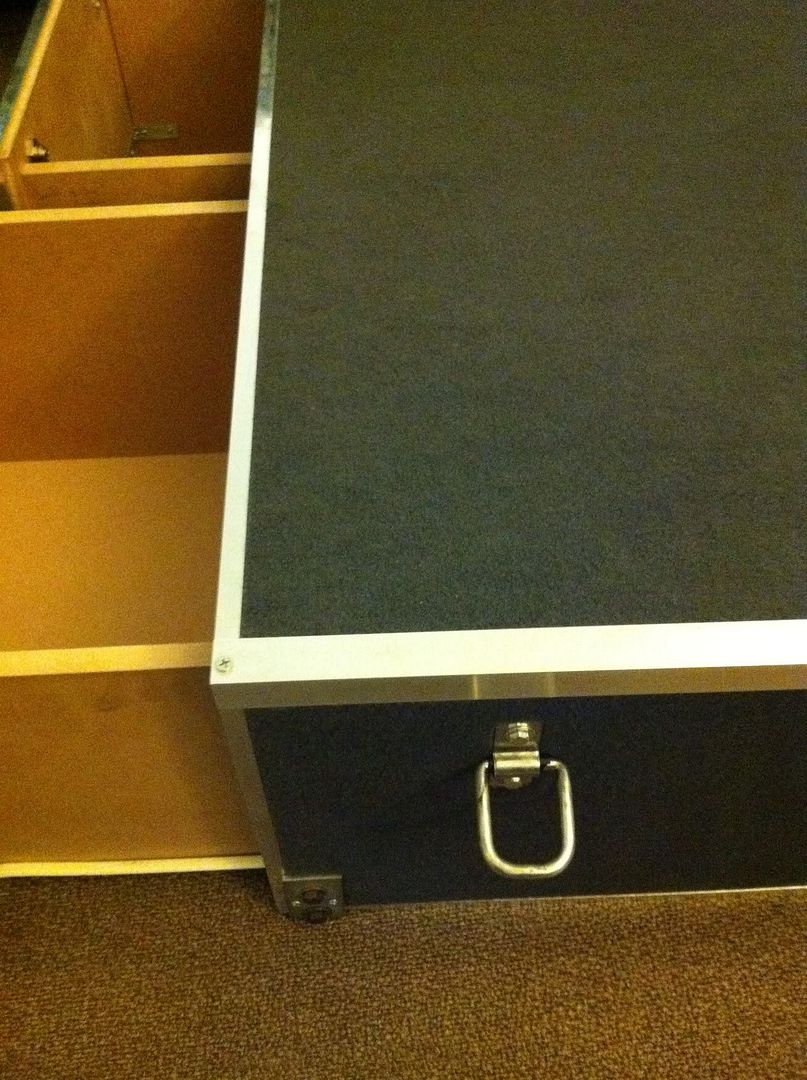 31. Last thing we need to do is reattach the 3 Mounting brackets and put the drawers in and hope nothing got screwed up since our last fitting. Well here goes !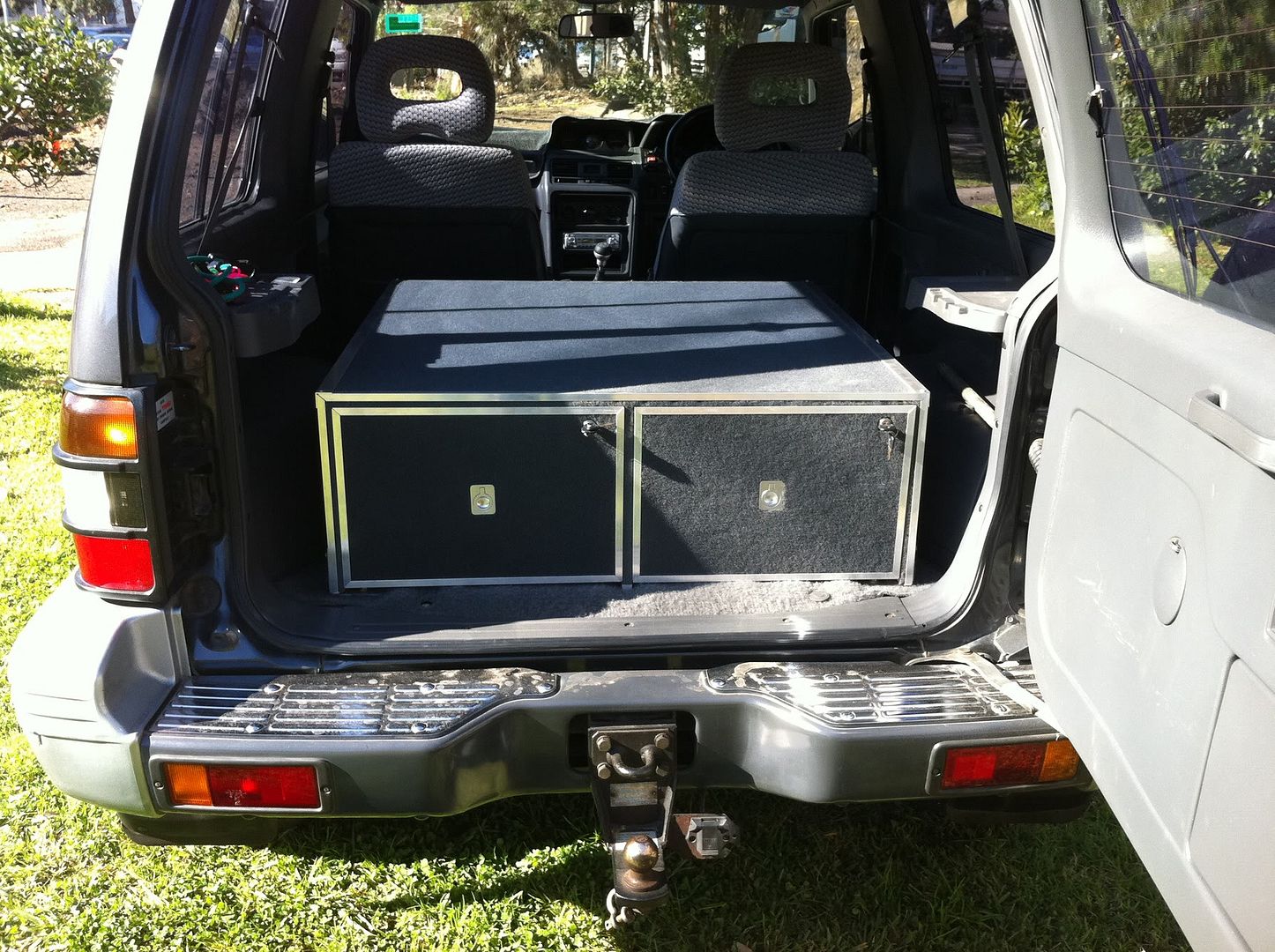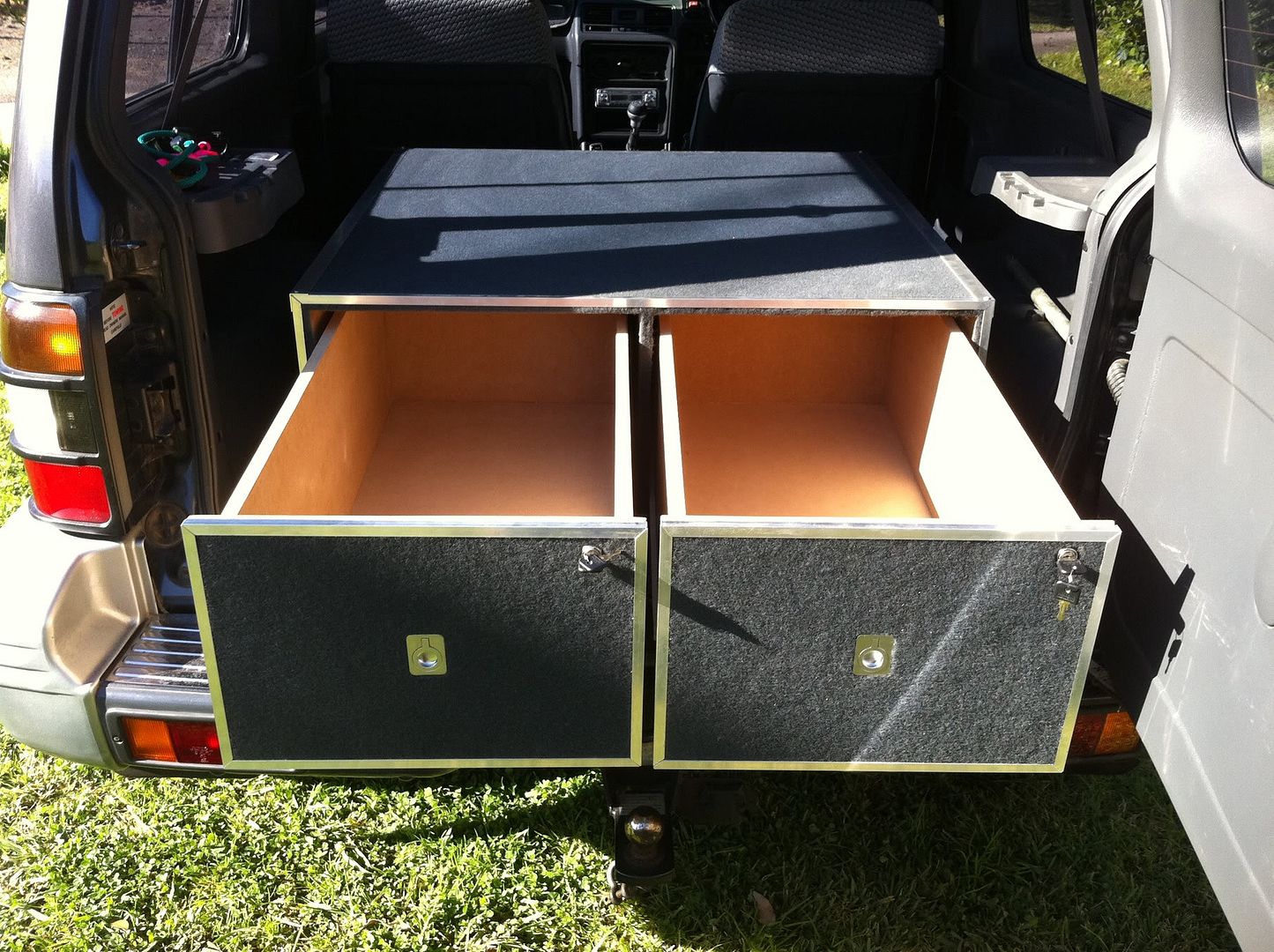 Well there you go guys I know its a long read and not super detailed in relation to sizes etc, but i could have written a novel on how to make them.
They took me a solid weekend to do and cost under 300 bucks which i dont think is too bad at all. it could be done for cheaper if needed.
As i said before if you would like to discuss any bits in detail, id be more than happy to do so.
Pros:
* 3 Bolts and its removed
* Lockable security
* Not too pricey
* Looks Good
* Fun project to do.
* One Person removable
Cons:
* Tricky to make for beginner
* Power tools required (I used timber/metal jigsaw, Cordless screw driver and Dremmel)
* Requires stronger locks to be thief proof